Implications Of Compensation Changes On Your Hong Kong Work Visa
The Impact of Adjustments In Compensation On Your Hong Kong Work Visa When Changing Jobs
Summary
Hong Kong work visa changing jobs? Learn how to navigate the Hong Kong work visa process while changing jobs. Understand the Immigration Department's views on compensation changes and how to make a successful change of sponsorship application.
Background
Hong Kong's robust economy attracts many foreign professionals to work and contribute to the city's growth. To work legally in Hong Kong, a person needs a work visa. The process to obtain a work visa is usually straightforward, but some people encounter difficulties when changing jobs due to compensation changes. In this post, and the above video, I discuss what happens when you have a Hong Kong work visa changing jobs and how the Immigration Department might view any compensation adjustments.
Hong Kong Work Visa Changing Jobs Visa Expiry
If you hold a work visa for your current job, you need to apply to the Immigration Department when you plan to change jobs. The visa that your existing employer sponsors covers you for that job only. Therefore, you will need to apply for adjustments in your employment visa permissions and obtain approval from the Immigration Department before you start the new role. If your current visa is due to expire soon, you will have to secure a job offer before your visa expires and apply to change your employment visa sponsor BEFORE your present limit of stay expiry.
New Job Offer and Compensation Structure
As in the video above, let's say that you have secured a new job, but the compensation structure is different from your previous job. The new company offers you a lower base salary of HKD 20,000 (a bare minimum compensation under the General Employment Policy), but includes bonuses in the form of royalties from sales. You project that your new compensation with the bonuses factored in will be higher than your previous job.
How the Hong Kong Immigration Department Views Compensation Changes
The Hong Kong Immigration Department understands that modern work arrangements are continually evolving, and compensation models are becoming more unconventional. Provided that you can demonstrate that your new compensation structure is reasonable and workable, they are likely to approve your change of sponsorship application.
The Immigration Department considers the following factors when assessing this situation:

The skill level of the job

The experience of the job holder

The job's economic value to Hong Kong

The prospective employer's business background

The compensation modality in your specific profession

The likelihood of you actually attaining that compensation
If there is a significant compensation disparity between your previous job and the new job, the onus is on you to demonstrate to the Immigration Department that your new compensation arrangement is reasonable. Please note, however, that the default posture of ImmD is to routinely not accept any compensation that is not 'firm' – so you have all the running ahead of you in persuading them of this compensation arrangement.
Last Words …
Changing jobs with a lesser compensation under a Hong Kong work visa changing jobs is possible, provided you understand the various factors in play. If you are unsure about the process, you can seek the help of professionals who will be able to guide you through the process. Ensure you can demonstrate that your new compensation structure is reasonable and practicable. If you do everything right, you'll be able to get your updated employment visa permissions approved.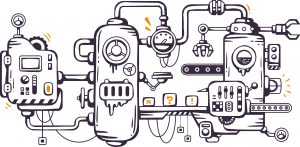 VisaGeeza.Ai – 13 Years In The Making
All Our Know-How: All Our Experience: Fully Interactive
100% FREE!
More Stuff You Might Find Useful or Interesting