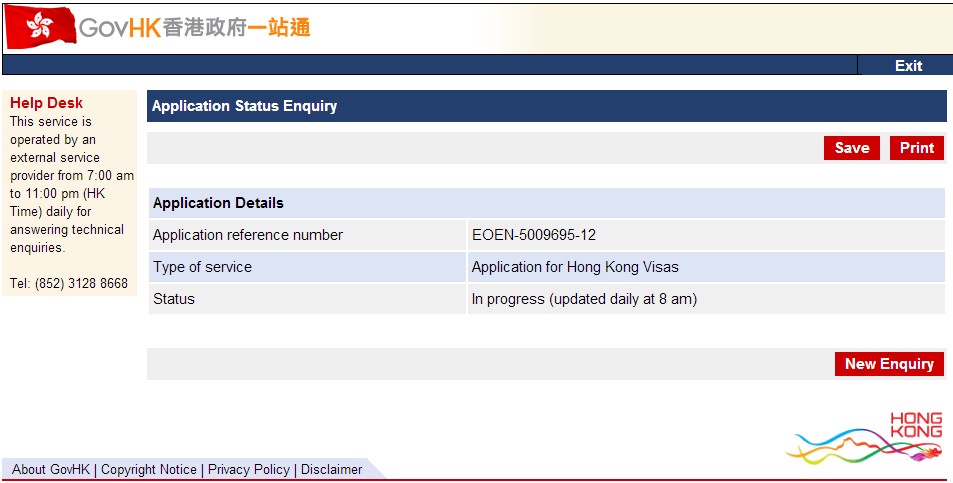 If you've made an application for a residence visa here, the Hong Kong Immigration Department provide you with a website URL and login credentials so that you can 'track' the progress of your case as it travels its way through the visa labyrinth that is the Immigration Tower.
So goes the theory anyway.
In fact, the experience is a lot more sombre than that.
The journey begins with the Official Receipt for your application which arrives via mail between 7-10 days after you have filed your application.
This snail mail communication invites you to go to www.gov.hk/immdstatusenquiry which, once visited, takes you through a couple of  other pages/disclaimer options before you get to the meat and potatoes of the experience.
Then you input your official Reference Number.
Then the date of birth of the applicant.
The Eldorado that awaits you is one of three status updates:
In progress (= wait some more, we're still working on it).
Approved (= congratulations and welcome to the wonderful world of Hong Kong residency).
Application closed (= your application has been approved and you've already collected your visa label OR  you've been refused – for one reason or another – but we haven't got around to informing you yet).
Of course, this is about all you might expect of this process. It is the government after all.
But given that approvals tend to be faxed out the same day they are finalised, the only 2 things you can expect to learn from the system is that ImmD are still working on the file (which you already knew anyway) or that a visa is not coming your way after all (a bit of shock, no doubt – a bit like learning a loved one has died in a ski-ing accident when you turn on the news).
In fact, this post was prompted by an email exchange I had with a visitor to this Blog just last weekend.

Questioner
"I have checked the visa status. Previously it showed as "In progress". Now it is showing as "Application closed". Can you tell me what does it mean? Please respond to it ASAP."

Me
It means the case is either cancelled by ImmD due to lack of response on the part of the applicant, or it has been refused. It does not mean it is approved (unless you have already collected your visa label but in that case you wouldn't be posing this question of course…).

Questioner
"I have applied for a Hong Kong long term business visa but it was refused. Can I reapply for the same as it is very important for me to travel. My company is applying on behalf of me where I am going to be working."

Me
You need to apply for a Reconsideration. More information here. Good luck in your appeal.
This happened on a Saturday so this poor soul had his weekend ruined by the system.
Of course, he was destined to learn the outcome one way or t'other but you can't but help conclude from the way that the online status check system is designed that the rationale for this 'service' is just to keep applicants from calling their Case Officers to find out if there's any progress on their cases.
In fact, we hardly ever use the online status update service.
It's barely any use at all and not worth the time it takes to log-in.
More Stuff You May Find Interesting