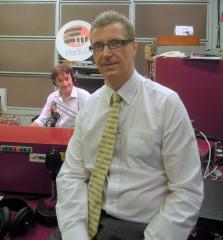 After a bit of confusion over scheduling, on the 11th of June I finally made it back to the studios at RTHK in Broadcast Drive to once again appear as a guest on Phil Whelan's Morning Brew show. This morning we talked about a lot of stuff, but Phil was keen to press the issue of foreigners who spend a great deal of time in Hong Kong as visitors and what the Hong Kong Immigration Department make of their constant to-ing and fro-ing to extend their limit of stay. Phil also pushed me on my view as to what might actually be going on when high profile personalities are denied visas to come to the HKSAR.
You can listen to the session here.
I will be visiting Phil next sometime in July, date to be decided.
In the meantime why not check out Phil's show on Facebook and also listen live to his show via the web here.
Listen To The Show
Podcast: Play in new window