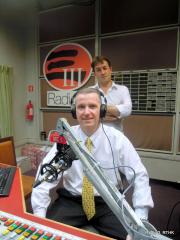 Phil Whelan was on holiday in Bali  last week when we coordinated my visit to him on his Morning Brew show over at RTHK Radio 3 yesterday.
It was clear that he'd been thinking about a few things visa and immigration related whilst sunning himself by the pool as no sooner had I sat down in the hot seat did he lay into me about a whole barrage of  topics, not least how hard it is for F&B venues to secure employment visas under the General Employment Policy for foreign national staff  in Hong Kong.
You can listen to our discussion here.
Jason Black, celebrity chef (and all round good guy) will talking more about the dire state of Hong Kong visa approvals for foreign national F&B staff on Morning Brew this coming Friday, August 9, 2013  at 10:10 am. 
Even if you're nowhere near a radio at that time, you can listen in via the web here. This is RTHK' Radio 3′s live web feed (and Phil is always there from 9~1 every week day).
Definitely worth a listen.
Also, check out the Morning Brew Facebook page. This is an ongoing record of part of the social fabric of Hong Kong. Support it – for posterity's sake!
More Stuff You Might Like
Listen To The Show
Podcast: Play in new window