Navigating the Hong Kong Work Visa Process: A Comprehensive Guide to Changing Employers
Changing employers while holding a Hong Kong work visa can be a complex process – until now …
Hong Kong work visa? Changing jobs?
With numerous forms to fill out, documents to prepare, and legalities to consider, the procedure can be daunting.
In this post, we aim to simplify the process by offering a comprehensive guide based on the information available on our Hong Kong Visa Sherpa website section: Hong Kong Work Visa Assessing Your Application.
The 5-Step Process
Here, we outline a five-step process for changing your employer in Hong Kong. These steps are:
Before you begin, it's crucial to assess your eligibility and gather all the necessary documents.
This involves collecting all the required documents, filling out forms, and ensuring everything is in order.
Once prepared, the next step is to submit your application to the Immigration Department.
This involves tracking the status of your application and responding to any queries from the Immigration Department.
Once approved, there are certain formalities to complete to finalize the change of employer.
Atypical Scenarios
Changing employers is not always straightforward. The website discusses various unique situations you might face:
Salary Reduction
What happens if you're changing to a job with a significantly lower salary?
Changing Sponsorship Secretly
How can you change your sponsorship without your current employer finding out?
Visa Overstay
What are the implications if you've accidentally overstayed your visa?
Application Checklist
The website provides a checklist of documents.
Forms Needed
Resources needed for the application process include:
– Declaration Letter from Sponsor
– Employment Reference from Previous Employers
– Various forms like ID91 and ID990B
– Bye Bye letter
Useful Templates
To make the application process easier, the website offers templates for various documents, such as:
– Employment Contract
– Letters of Authorization
Important Resources
The Hong Kong Visa Sherpa also provides additional resources like expert guides and answers to your questions,
Your At-A-Glance-Guide

Last Words
Changing employers while holding a Hong Kong employment visa can be a complex process, but with the right resources and preparation, it can be made simpler. The Hong Kong Visa Sherpa website is perfect for this purpose.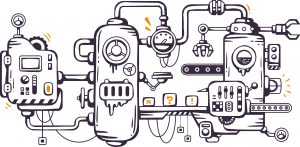 VisaGeeza.Ai – 13 Years In The Making
All Our Know-How: All Our Experience: Fully Interactive
100% FREE!
More Stuff  You May Find Useful Or Interesting