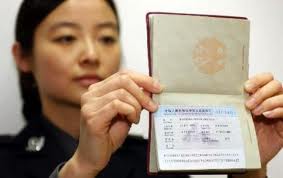 Image Courtesy of China Daily Mail
Paul Bischoff recently laid bare the visa and immigration problems which entrepreneurs (and intending foreign national residents generally for that matter) face when seeking to set up in China in this provocative piece in TechinAsia.com (read the comments especially).
China has always been a hard place to meet any level of commercial success, no matter what business you're in and I gave up trying to make any money there many, many years ago.
The streets of Hong Kong are paved with gold after all so why put yourself through all that expense, frustration, bureaucracy and uncertainty when you can ground yourself here, learn the ropes locally, gain some valuable experience in the HKSAR and then really understand what the challenges of China are actually all about?
Of course, if you feel that China is where the action is for you, then you need to be there, not here.
However, experience has taught me that if you feel you can make it work in China you almost certainly will be able to make it work in (or based out of) Hong Kong so why plunge directly into China if you can mitigate your risk by getting your biz off the ground in Hong Kong first?
Certainly, Hong Kong's immigration rules and regulations are nowhere near as cumbersome as they are across the boundary and the HKSAR government genuinely welcomes investment here and prides itself on a scheme of 'light touch' regulation.
A dozen years ago, I spent several weeks researching the ins and outs of establishing an immigration practice in China and came to the conclusion that it was all too hard.
It's getting harder too, no doubt about that at all.
Indeed, just last week I was approached by an entrepreneur seeking to relocate her successful business from China to Hong Kong as the recent immigration changes there have effectively chased her out of the Middle Kingdom.
I expect to see more of this too.
So, China or Hong Kong?
Easy.
Hong Kong is a breeze. China is a slog.
Isn't a new business hard enough to get off the ground and on to profitability without visa uncertainties hanging over your head like the Sword of Damocles?
More Stuff You May Find Interesting or Useful
Relocating to Hong Kong for work or business – Immigration Policy
Is the Hong Kong Immigration Department website actually fit for purpose?
The anatomy of a Capital Investment Entrant Scheme pathway to a HKSAR passport for a Chinese national resident on the mainland
Do mainlanders enjoy the same kind of immigration experience as other foreign nationals do in Hong Kong?
10 Must Have resources for a Hong Kong investment visa application