If you're considering coming to Hong Kong as a tourist with a visitor visa, finding a job, and then changing your status to an employment visa, this post will help you understand the process and the possibilities. I'll discuss whether it's possible to change your status to a Hong Kong employment visa from visitor visa status and the steps you need to take to see you getting it done successfully.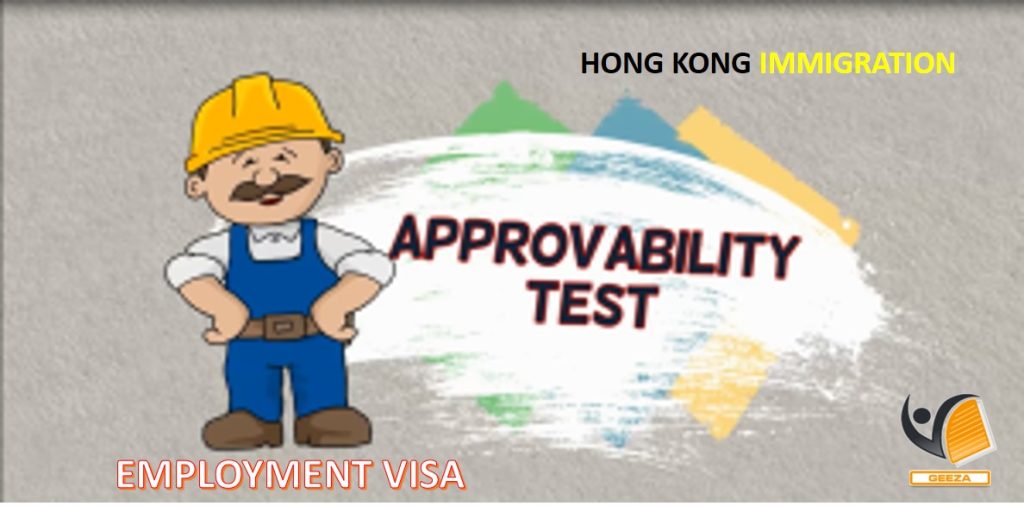 Can You Change to Hong Kong Employment Visa From Visitor Visa?
The short answer is yes, you can change to Hong Kong employment visa from visitor visa  status in Hong Kong. You are allowed to be physically in Hong Kong as a visitor when applying for an entry visa to take up employment, or you can apply from outside Hong Kong. The application consideration criteria are the same, regardless of your location.
Change to Hong Kong Employment Visa From Visitor Visa –  Looking for Employment as a Visitor …
It is permitted to be in Hong Kong as a visitor and look for employment, attend interviews, and secure job offers. However, you cannot take up any employment until you have secured an employment visa.
No exceptions!
Unless you are engaging in accredited short term work activities.
When entering Hong Kong, it's essential to be cautious when explaining your purpose of visit to the examining Immigration Officer. Stating that you're looking for employment may lead them to believe you're at risk of breaching your conditions of stay by taking up unauthorized employment. If you have interviews scheduled, you can show them the details of those appointments.
It's worth noting that around 70% of all employment visas are applied for on the basis of an adjustment in status from visitor to employment. By you need to exit Hong Kong and reenter again to activate the new employment visa once approved.
You can do this via Macau or the China land boundaries easily enough, saving you the cost of a flight.
Change to Hong Kong Employment Visa From Visitor Visa – Wider Implications
Please note that the fact of you being in Hong Kong as a visitor does not in any way enhance or detract from the consideration exercise in the grant of your employment and dependant visas if you applying with family members.
However, you are not permitted to work under any circumstances or configuration until and unless your new employment status has been approved.
Moreover, children are not permitted to attend school under their visitor permissions.
It normally takes ImmD 4-6 weeks to finalize employment and associated family visa applications and the mere fact of you being in Hong Kong while they are processing your application(s) doesn't avail an automatic right to an extension of your present limit(s) of stay as a visitor. You will thus need to arrange a means to extend your visitor permission(s) if they are going to expire before your approval(s) comes through.
Do not be tempted to overstay under any circumstances.
You can apply at the Immigration Department directly for an extension but they generally do not encourage this as it involves a lot of time and resources for them to manually process an extension of stay.
Generally, they prefer that you exit and re-enter Hong Kong if you need to stay compliant. You can do this via same-day IN/OUT to Macau or Shenzhen easily enough (assuming you have a visa for China). Be sure to take proof of your employment visa application reference number with you if you undertake the Shenzhen Shuttle in this fashion. The ImmD Officer at the point of arrival back in Hong Kong might want to see this if you tell him the reason for your 'double back' is to secure a defacto extension to your visitor permissions until your main application(s) have been approved.
Ending Note
Obtaining an employment visa in Hong Kong requires meeting the General Employment Policy criteria and presenting a strong case argument that demonstrates the value and the need for your unique skills in Hong Kong. It doesn't matter if you're in Hong Kong as a visitor when you apply. But you'll need to exit and reenter Hong Kong to activate the approved employment and any associated family dependant visas.
In very special circumstances an intending employee can be accredited for short term work for 14 days as a visitor; but that is a separate arrangement agreed with a qualified host QUANGO organization in Hong Kong and is not widely applicable.
Useful Resources
For more information on changing your status from a visitor to an employment visa holder in Hong Kong, check out the following resources:
Other Stuff You Might Find Helpful Or Useful
All Our Know-How : All Our Experience : Fully Interactive
100% FREE!