The D-I-Y Guide to ASMTP Visa Applications and Family Dependant Visas For Hong Kong
Navigating the complexities of Hong Kong's immigration system can be a daunting task, especially when you're applying under the Admission Scheme for Mainland Talents and Professionals (ASMTP) and planning to bring your family along.
Employment visas in Hong Kong under the ASMTP scheme are designed for Chinese national professionals and talents. Successful applicants can bring their legal spouse and children under the age of 18 as dependents. The ASMTP visa has specific eligibility criteria that both the applicant and the employing company must meet.
Eligibility Criteria for ASMTP Visa
To be eligible for an ASMTP visa, the applicant must:
– Have a good educational background, typically a bachelor's degree.
– Have at least two years of post-graduation work experience in a managerial or supervisory role.
– Possess special skills, knowledge, or experience valued in Hong Kong.
– Be of good character.
– Receive a compensation package commensurate with market rates.
Employer Requirements
The employing company must:
– Be well-established with a proper office setup.
– Employ Hong Kong locals.
– Be deemed a suitable and credible ASMTP visa sponsor by the Immigration Department.
The 5-Step Process
The Hong Kong Visa Sherpa website outlines a five-step process for the ASMTP application with family:
Evaluate your eligibility and gather the necessary documents.
Collect all required documents and fill out forms.
Submit your application to the Immigration Department.
Track the status and respond to ImmD queries.
Complete formalities once approved.
Atypical Scenarios
The Visa Sherpa website discusses various unique situations you might face:
– **Criminal Record**: Will a criminal record impact your application?
– **No Degree**: Can you get a Hong Kong work visa without a degree?
– **Visa Denial**: Why do visa applications get denied?
Application Checklist and Useful Templates
Visa Sherpa provides a checklist of documents and forms needed for the application process, such as:
– Declaration Letter from Sponsor
– Employment Reference from Previous Employer
– Various forms like ID91 and ID990B
– Bye Bye letter
– Employment Contract
– Letters of Authorization
Important Resources
The Hong Kong Visa Sherpa also provides additional resources like expert guides and answers to your questions,
The Approvability Test
To ensure a successful application, the applicant must satisfy the Approvability Test. This involves demonstrating that they possess special skills, knowledge, or experience of value to Hong Kong and that their employer can justify engaging the services of an expatriate Chinese staff member.
Categories of ASMTP Applications
Applications generally fall into three categories:
1. **Intra-company transferees**: Administrative in nature, with minimal need for substantive argument.
2. **Locally recruited Chinese expats**: Mainly administrative but requires thorough argumentation if the applicant has only recently had an ASMTP visa approved.
3. **Non-local Chinese talents recruited from China**: Requires meticulous preparation and presentation.
Articulating the Argument
When articulating the argument, the applicant must address several key points, such as their educational background, the genuine job vacancy, the confirmed offer of employment, and the relevance of the job to their qualifications or working experience.
Submission and Processing
The application can be submitted to the Immigration Department HQ either online or in person. Processing time usually takes 4-6 weeks but can be longer in more complex cases. The Immigration Department may raise questions and request further information, which should be submitted within 14 days.
Dependent Visas
Visas for dependents will be issued at the same time as the ASMTP visa, as long as the marriage or civil partnership is certified and the children are the biological or adopted offspring of at least one of the parents. Dependent visa holders are permitted to work, establish or join a business, or study without requiring further permissions from the Immigration Department.
ASMTP Checklists & Videos
 Your At-A-Glance Guide
Last Words …
Obtaining an ASMTP visa in Hong Kong requires meeting specific criteria and presenting a strong case argument that demonstrates the applicant's value and the need for their unique skills in Hong Kong. By carefully considering the applicant's individual circumstances, the job offer context, and the proposed employer's business needs, the applicant can maximize their chances of a successful application. Dependant visas for qualifying accompanying family members are issued as a matter of course.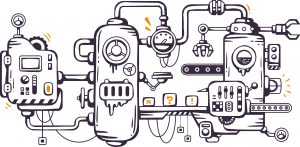 VisaGeeza.Ai – 13 Years In The Making
All Our Know-How: All Our Experience: Fully Interactive
100% FREE!
More Stuff You Might Find Interesting or Useful