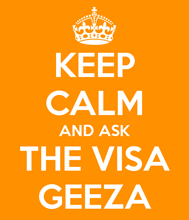 So, you sense there's an opportunity to augment your salary with some freelance work so how do you go about making an application to join in a side business in Hong Kong?
QUESTION
Dear Visa Geeza,
I have listened to your podcasts regarding sole proprietorship and followed the information given.
Background information – I am currently working as a Business Manager (3+ years) for a Hong Kong based company who holds my working visa.
My employer has agreed that I can work outside of my current company as a sole proprietor / freelance.
I have registered and got my BRC and waiting on forms to open a bank account.
My questions is, what is the best way to approach immigration / who to write to regarding acceptance of my sole proprietorship?
1) My employer to write a letter confirming that they allow me to work outside the company – is there anything you would advise to include / not include?
2) A personal letter from myself outlining my business activates / plan – during work for my current company I have been approached by a number of other businesses and sometimes friends who want certain services for Hong Kong companies.
Do I need to outline in detail or just explain what services I will be offering?
Do I then need to link how this will benefit Hong Kong and potentially create new jobs etc?
Any advice would be great as this will hopefully be the last step and I can start accepting work during my free time and keep immigration happy.
Thanks!
ANSWER
Yes, so as you've understood going about getting the permission of the director immigration to joining the side business requires you essentially to get the permission of your current employer to confirm that they have no objection to you taking up this side business, and they need to do that in writing.
And in so far as the inclusions essentially so long as the employer, sponsor clearly denotes that he has no objection to taking up that side employment then really that's the sum of that correspondence part to the Immigration Department.
Then in terms of a personal letter from yourself outlining a business activity, yes, essentially what you do is you talk about the work that you do for your current employer, how you have sufficient time, free time that you could use productively, and you've been approached by various parties in Hong Kong to provide those services. Consequently, in anticipation of the Immigration Department approving you to uptake that side business, you have established a sole proprietorship, and you are standby ready to begin work on side projects the moment the director of immigration authorizes it in writing.
So, yes, I would essentially set out in your current letter to the Immigration Department, the rationale for you wishing to take up that side employment. At this point I wouldn't really get into issues about how it's going to benefit Hong Kong and potentially create new jobs and the like, the expectation of a side business is that it's something you do on the side, something that supplements and supports the income that you receive from your current employer and by giving you permission to join in the side business the Immigration Department essentially saying okay, we acknowledge that you have other talents that could be marketable, we don't particularly want to stand in your way of you being able to exercise those marketable talents for profitable end, just so long as your current employers employment interests are not compromised by your proposed side business activities hence the Immigration Department needing the permission of the employer to go forward with an approval for such an application.
So, yes I wouldn't harp on too much about how we're going to create local jobs and add a lot of value to the economy of Hong Kong. Essentially the side business process anticipates that there is some value creating activity, there's no need to argue for it as such and clearly if you do believe you're going to create new jobs then that begs the question as to whether or not that's a part time side business or whether it's a full time business and if it's a full time business and clearly you need to stop working for your current employer and make an application for a wholly-fledged business investment visa instead.
So, essentially those are the 2 things you need to be thinking about when crafting your letter to support the proposition that you should be allowed to join in your side business.
Okay, its application to the 5th floor of immigration tower address to the residence section, you can send it in by mail, there's no need to show up with your passport to progress this type of application and the Immigration Department will deal with you by correspondence through to your approval.
Okay, I hope you found that useful.
More Stuff You May Find Useful or Interesting
| | |
| --- | --- |
| | |
| PODCAST ANSWER | |
Podcast: Play in new window