Now that the dust has settled on the news of the suspension of the Capital Investment Entrant Scheme as at yesterday, it's now worth having a look at additional Hong Kong immigration policy changes which await us and serve to lay the foundation for the next phase in Hong Kong's economic development.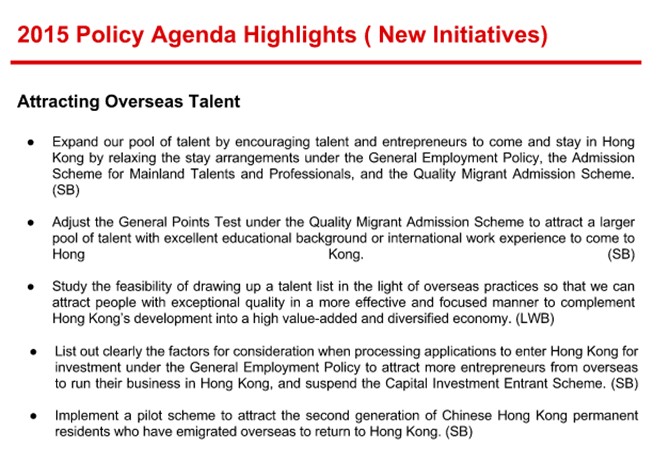 The Immigration Department have already released some Sherpa-Information as to how these policy changes will be implemented. These can be found here
Essentially, the current programmes are to be subjected to Enhancement Measures to make things a bit easier all told. A lot of these changes to my mind make it easier for ImmD to do their own job never mind for the applicant – and why not!
My Take
1 – ImmD are going to lighten up on the approval criteria for approval seeking to bring in the brightest and best. Given that the privileges associated with residence in Hong Kong are so great, I expect the personal criteria for approval will be made easier but the onus on the applicant to prove they are among the brightest and the best will be made more burdensome. In short visas for people previously excluded more likely available but harder work where marginal documentation / evidence available. Moreover, if you have earnings of more than HKD2 million per year you are going to get a 6 year limit of stay after your first visa or otherwise a 2 + 3 + 3 year visa. If you earn more than HKD2 million each year, you don't have to get the permission of the Immigration Department to change employers; you just have to write and notify them.
2 – The Quality Migrant Admission Scheme is going to be a greater source of candidates for foreigners to take up residence in Hong Kong with more points going to graduates of a Top 100 education institute globally. Whether the system of implementing  QMAS changes or not remains to be seen. If it is still a black box with a 12-18 month application consideration time frame then it's not going to be much use to the average applicant.
3 – ImmD are likely going to introduce an Occupations in Demand list where an individual who clearly has the skills, knowledge, qualifications and experience in a particular occupation or professional will secure an IANG type visa upon application.
4 – More transparency on what it takes to get a business investment visa approved. ImmD are not going to just give visas away but the likelihood of a successful outcome is definitely enhanced if you have an understanding of what it takes to get approved! Expect, however, that the money requirement for approval might become more onerous for marginal applicants. If you can get yourself enrolled on an incubator type programme with InvestHK, Cyberport, Incu-App, Incu-Bio and Incu-Tech programmes administered by the Hong Kong Science and Technology Parks Corporation; the  Enterprise Support Scheme or the Design Incubation Programme administered by the Hong Kong Design Centre then your chances of approval are significantly enhanced. The limit of stay will also change from 1-2-2-3 to a 2-3-3 pattern. ImmD have laid out enhancement measures for Startups but haven't defined exactly what they mean by this.
5 – Looks like there will be a new class of visa for descendants of permanent residents. Actually, at the moment, such persons are very often in with a chance for right of abode or right to land  in their own right – but this route to legal residence can often be time consuming and clunky to process. So any such pilot scheme is to be warmly welcomed.
I've been practicing Hong Kong immigration for the last 21 years. I've seen policy changes come and go, Schemes introduced then scrapped, mistakes made then rectified.
The recently announced changes are all good news and should fit squarely within the dynamics of the connection economy. Remember, though, no government gives away residence status willy-nilly and Hong Kong is no different.
You still have to apply for these visas and qualify for them nonetheless. But now, certain worthy individuals previously locked out of Hong Kong residence are now going to qualify after all.
But we still need to wait and see how the new policy changes are implemented on the ground and I will be reporting on an ongoing basis our experience as we encounter it, revising the Hong Kong Visa Handbook continuously to keep you all abreast of these recently announced Hong Kong immigration policy changes on an ongoing basis.
More Stuff You May Find Useful or Interesting